Ice Sheet Expansion
Ice Sheet Expansion is a common phenomenon that is observed as pressure ridges on large lakes. Pressure ridges are a natural occurrence often seen in the same region on a lake every year. When ice forms and thickens it also expands. Typically, ice expands its volume by about 9% when it goes from liquid to solid. The expansion process is slow and steady so by late winter property is being damaged by this ongoing process. Ice sheet expansion is what traps boats and structures and creates pressure damage.
Ice Jacking
Ice Jacking happens when the ice grips onto structures and lifts or shifts them as water levels fluctuate. Many lake and reservoir water levels are known to fluctuate, so structural damage to posts, piles or dock structures from Ice Jacking is to be expected unless a de-icing system is used.
Ice Flow Damage
Ice Flow Damage is also known as ice shove, ice surge, ice heave or shoreline ice pileup. This condition is created when the ice sheet melts around the lake perimeter in spring, allowing strong winds to move the ice sheet onto shore. This phenomenon is quite common in fresh and salt water. Ice flow damage can occur in association with pressure ridge formation, particularly in lakes that freeze late in winter or lakes that only partially freeze
Types of Ice Damage
Property or shoreline damage from winter ice can be predicted with previous knowledge of lake morphology and geography. The most common types of ice damage are: ice sheet expansion (pressure), ice jacking (water level fluctuation), ice flow movement during spring melt, which typically can push large sheets of ice on shore and create massive damage, or ice formation created by tidal activity. Often a combination of these forces can complicate and limit industrial activities.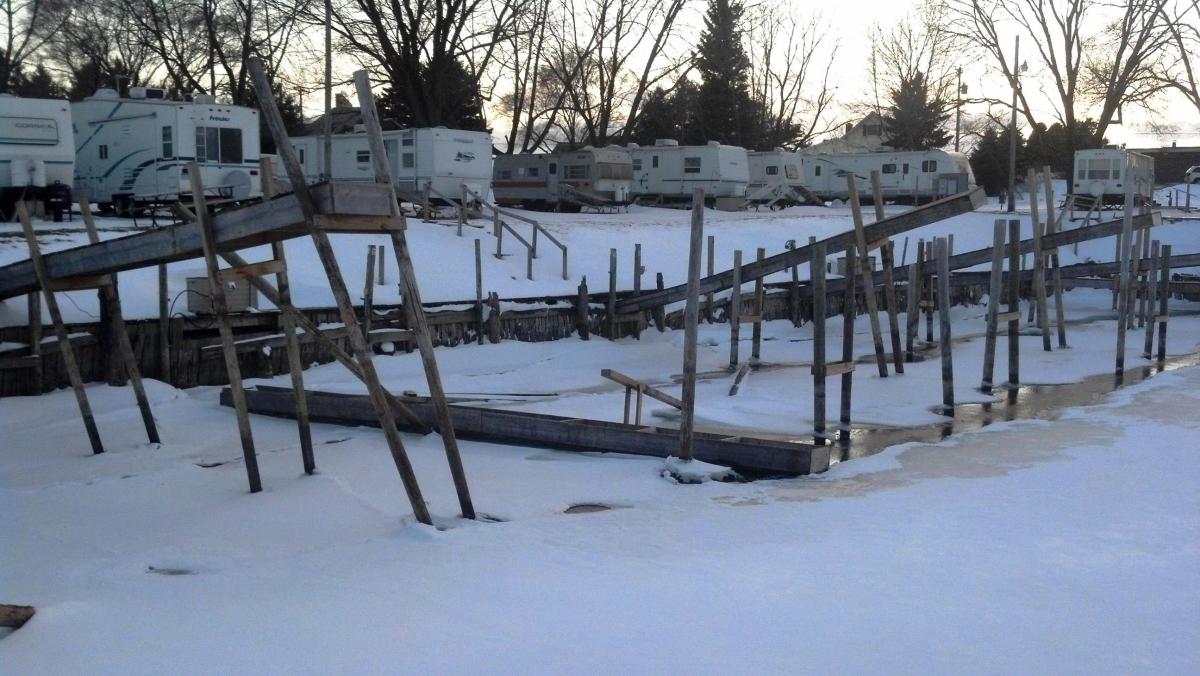 Ice build-up from Tidal Action
Ice build-up from tidal action and ocean currents can make loading, unloading at industrial ports very challenging if not dangerous. This kind of ice buildup can shut down operations in northern sea-going ports affected by strong tides. With proper planning and design, an ocean port affected by tidal ice buildup can be operational later in the fall and earlier in the spring when a custom Bubble Tubing Bubbler® is employed. In some instances, sea-going ports may be kept operating all winter.
Ice Jam in Rivers and Canals
Ice jam events happen rapidly when a rise in temperature or rainfall triggers the break up and accumulation of fragmented river ice, usually in the same place every year. Ice jams and associated flooding in winter and spring can be more damaging than open water flood events. Every province in Canada experiences flooding and damages of this sort. Extreme measures such as blasting (a technique used in Ottawa along the Rideau Canal) can over time cause structural property damage, not to mention harm to aquatic communities.
Northern Passage Deicing
In theory, our techniques and know-how could be used to maintain a shipping lane open in extreme conditions such as those found in the high Canadian Arctic. In extreme conditions, all types of ice damage could be at play. Concerns over ice damage or overcoming ice as a limit to development, are challenges awaiting our expertise.