Bubble Tubing® is high quality, durable, flexible, linear aeration tubing. As industry leaders in aeration, Canadianpond.ca designed Bubble Tubing® to give above average oxygen transfer rates in water. Bubble Tubing® logoWe designed Bubble Tubing® so it would be easy to install and maintain (anti-fouling). It is available in weighted and non-weighted formats, custom or standard lengths. Our Bubble Tubing® can be found in thousands of aeration, de-icing and mixing applications worldwide! Canadian made to our exacting specifications, this linear diffuser tubing is lead free. It performs for many years beyond its 5 year warranty. Designed and made in Canada.
Fine bubble diffusers such as our Bubble Tubing® produce numerous very small air bubbles (less than 1 mm in diameter). Tiny bubbles rise steadily from the floor of a wastewater treatment basin or the bottom of waterways and canals, ponds, lakes or lagoons. These bubbles provide substantial and efficient mass transfer of oxygen into the water. This oxygen, combined with the food source, sewage or sediment, allows naturally occurring bacteria to produce enzymes. Enzymes help break down waste or sediment made of accumulated organic matter.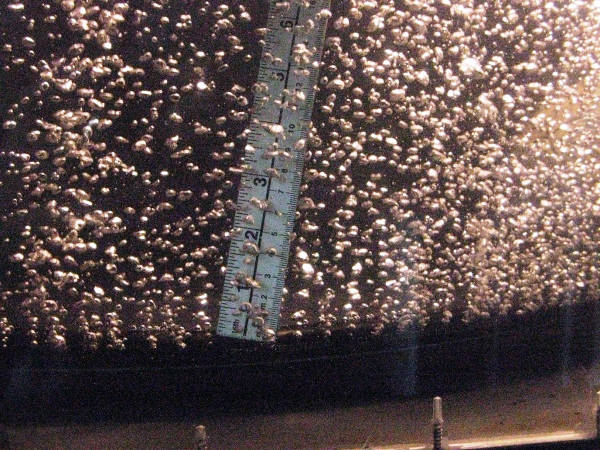 Jellyfish blocked from water intake pipes by Bubble Tubing® fine bubble curtains
Bubble Tubing® Test Results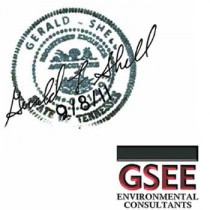 Since 2011 we have independent test results for the oxygen transfer capabilities of Bubble Tubing®. These tests were performed by GSEE Inc of Laverne, TN. The results are for the ½", ¾" weighted bubble tubing formats. The ½" non-weighted format tubing that is imbedded in the OctoAir™-10 stainless steel diffuser was also tested.
Fine Bubble Technology at work
The size of the bubble matters greatly for the application as we have noticed in our work. The fine bubbles (micro bubbles) are critical for achieving exacting results whether oxygenating a wastewater treatment plant, using aeration to biologically remove excess nutrients, or using aeration for liquid mixing. Deicing and air bubble curtains applications that rely more on mixing and moving water also benefit from billions upon billions of micro bubbles produced by Bubble Tubing®. Not only do bubbles transfer oxygen and decontaminate water by oxidation, they move and mix, clarify, and de-stratify water. Thus the same technology has many diverse applications.
Optimizing Oxygen Transfer Rates
Bubble Tubing® optimizes oxygen transfer and lifts water which aids in complete circulation throughout the water column. As it functions without moving parts or electricity in the water, it increases performance efficiency while significantly reducing electrical and maintenance costs in comparison to other aeration systems. For deicing purposes, the bubbles leaving the Bubble Tubing® also bring dense, heavier, warmer water from the depths to the surface, inhibiting ice formation. Made of highly resistant yet flexible PVC, this tubing is non-kinking and holds no memory when deployed.

Bubble Tubing® is sold custom cut, per foot, or by rolls of 100′ or more and in a variety of formats. Contact us for prices and details.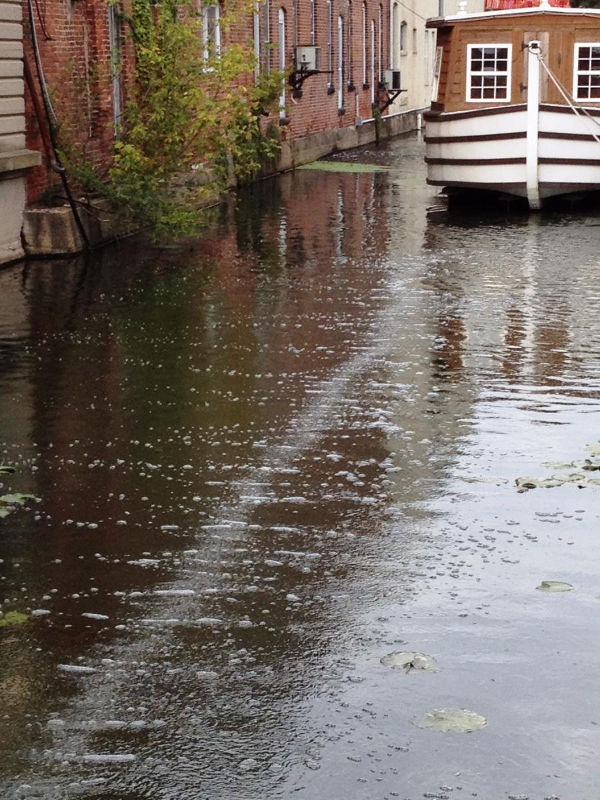 Shallow channel linear water aeration solution with Bubble Tubing® diffuser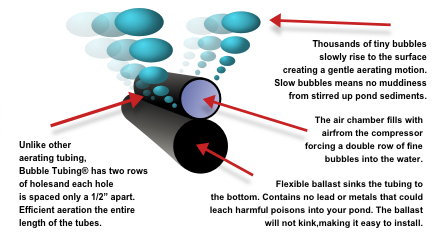 Features of Bubble Tubing®
Bubble Tubing® is flexible, it holds no memory and will not kink, is easy to install and is safe for the environment (does not contain lead).
Made exclusively in Canada to our exact specifications, impressive 5 year warranty.
High oxygen transfer rate. Full evaluation of the oxygen transfer capabilities by independent firm available.
Applications range from farm ponds to the largest industrial projects.
Suitable for fresh and salt water applications, from shallow to deep waters.
Inner pressure prevents clogging, tubing is very low maintenance, anti-fouling.
No moving parts or electricity in the water.
Highly resistant PVC (chemicals, salinity, temperature).
Weighted and non-weighted formats available.
Tubing can be purchased with all the necessary hardware, ready to be installed.
What sets Bubble Tubing® apart from other linear diffusers?
Our Bubble Tubing® has very high SAE (Standard Aeration Efficiency), SOTR (Standard Oxygen Transfer Rate), SOTE (Standard Oxygen Transfer Efficiency) performance ratings. The Bubble Tubing® linear air diffuser has two opposite rows of fine holes 1/2″ (1.3 cm) apart along the entire length of the tubing. Some of our clients expect that drilling holes in a poly hose will give a similar performance result as our Bubble Tubing®. Others think soaker hose purchased in a hardware store is a similar product, not so. Here is what we know about our Bubble Tubing®: Air Bubble Curtain, Bubble Tubing® fine bubble diffuser. Credit: DGA TECH. NAVALES, PHILIPPE BOYCE

Precision manufacturing means excellent field performance year after year, backed by our 5-year warranty.
Aeration holes maintain their geometry after thousands of hours of performance. Cost savings due to high performance and low maintenance is impressive.
The Bubble Tubing® bubbles are truly micro-bubbles. The smaller the bubble diameter, the higher the oxygen transfer rate. Millions of fine micro-bubbles create a larger surface area to transfer oxygen than fewer larger (coarse) bubbles. Our independent test results attest to this. Quality products going into manufacturing creates quality performance in rigorous environments.
When it comes to aeration, bigger bubbles do not mean better results, but it can mean higher operational costs.
The diffuser is designed specifically to prevent clogging and fouling. Maintenance is extremely low compared to other micro-bubble technology when our parameters are followed and respected.
Easy annual cleaning can be done quickly with BioPurge. We recommend this product as it will not change the chemical nature of the tubing material. The tubing stays in the water for cleaning while you save time and labour.
Available Formats
I.D. sizes available: 1/2" (15 mm)
Operations: How does Bubble Tubing® work?
Compressed air enters the tubing creating an inner pressure. Precision perforations along both sides of the entire length of tubing allow compressed air to release through the perforations. This creates efficient micro-bubbles that prevent clogging and fowling (typically found in porous diffusers), along the entire length of the tubing. The released air from the holes forms a bubble curtain of uniform and evenly dispersed fine bubbles.

No matter the scale of operations the basic same principle applies: A compressor`s heat hose is attached to an airline delivery hose. This is attached to the Bubble Tubing® that we equip with a check valve. The compressor pushes the air through both the feeder hose and the diffuser tubing that diffuses the air uniformly into the water.

We offer all the necessary products from start to finish, in order to fully set-up a reliable and efficient aeration system for you. We can size the compressor for the application, suggest tubing layout, suggest cost effective design modifications, and offer troubleshooting. Our experience designing aeration and deicing systems with Bubble Tubing® is solid and our expertise is sought for many aeration projects.
Applications with Bubble Tubing®
Our Bubble Tubing® has been used for over a decade in a wide array of applications by various industries, government, and the private sector. Manufacturing and processing plants, mining, port authorities, aquaculture, agriculture, waterways and canals, parks and recreation, engineering, landscaping and reclamation firms, marine construction, universities and research facilities, ponds and lakes, are markets currently using Bubble Tubing®.
Aeration, Deicing and Air Bubble curtains applications include (but are not limited to the following)
Aeration sewage lagoons, wastewater treatment process plants, leachate ponds…
Earthen ponds, dugouts, lakes, …
Waterways and channels
Storm water retention ponds
Septic systems
Aquaculture
Deicing docks, power plant water intake, marina slips, shoreline and/or water retention structures, industrial ship Air Bubble Curtain with Bubble Tubing®docking, ocean freight & maritime transport, pumping operations and nuclear power generating plants.
Efficient Bottom-to-Top Water Circulation and Mixing for water treatment, deicing, and other applications.
Pathogen Reduction, the bubbles lift deeper waters to the surface for UV exposure.
Underwater Air Bubble Curtains for
protecting fish and marine mammals from underwater blasting and pile driving noise
diverting marine mammals away from offshore oil platforms and wind power farm construction and continuous operation vibrations and noises (machinery and engine noise)
containing oil spills within a given area
controlling movement of marine life, plants and debris. A bubble barrier can control the movement of marine life and floating debris and control the migration of jellyfish, fish, seagrass, debris, sediments etc.
Water Quality improvement for increasing water clarity, reducing algae blooms and reducing H2S Hydrogen Sulphide production for odour suppression.